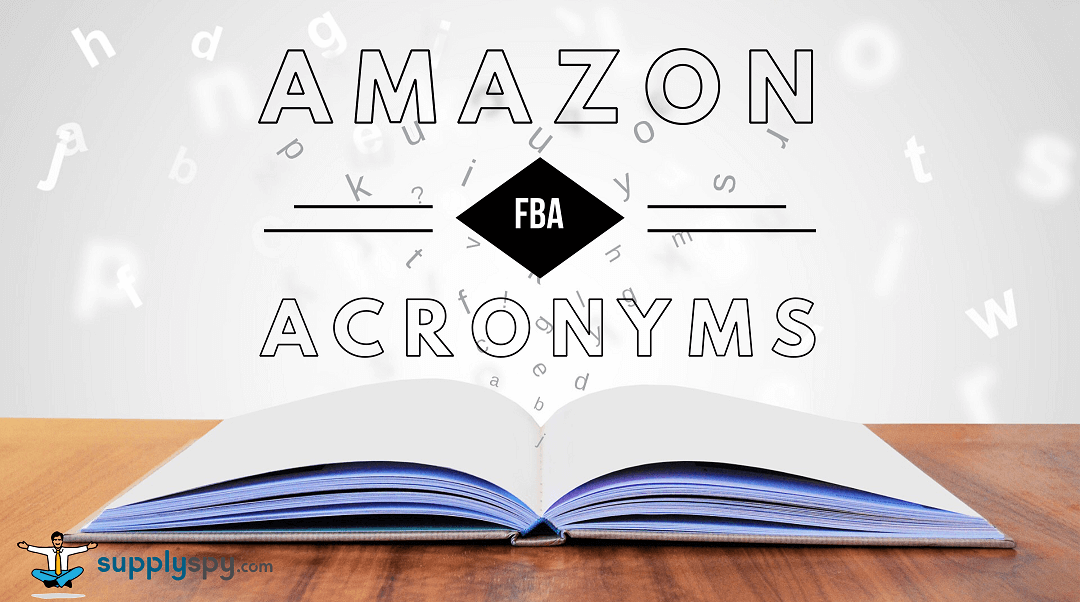 FBM? BSR? BOLO? If you're a new Amazon seller, chances are you've already seen a bunch of acronyms and terminology that feels like nonsense. Here's a few of the most common Amazon terms you'll see online.
API
Application Program Interface. A web interface which gives programmers access to Amazon's product catalog data and seller's account info (with permission). Many loan providers, inventory management companies, and software companies use Amazon's API backend.
ASIN
Amazon Standard Identification Number. An identifying product number specific to Amazon.
ATOP
At Time Of Posting. Often used in message boards or Facebook groups when someone is spreading the word about a good arbitrage deal that has a short short-life. for example, "ATOP I found this Spiderman figure $12 at Walmart."
BB
Buy Box. The listing/seller whose offer is shown on the main Amazon listing page.
BM
Brick & Mortar Store. A store with a physical location.
BOGO
Buy One Get One (Free)
BOLO
Be On Look Out. Used in message boards or Facebook groups to refer to a product that an Amazon seller should be looking. An Amazon seller may share a BOLO when they've found an extremely profitable item, have run out of a particular item in their area, or want to share a good deal with others.
BSR
Best Sellers Rank. The number Amazon assigns each listing based on sales volume and category. This number changes every time an item sells, so it is in constant flux.
EAN
European Article Number. A 13-digit product identification number specific to Europe.
FEIN or EIN
Federal Employer ID Number. A U.S. tax number used to identify a business.
FNSKU
Fulfillment Network Stock Keeping. The Amazon identifying number printed product shipping labels.
GTIN
Global Trade Identification Number. Use as an alternative to a UPC to track product information across worldwide databases.
HBA
Health & Beauty. A major Amazon product category.
ISBN
International Standard Book Number. Almost every book in the world had this identifying number.
MAP
Minimum Advertised Price. The lowest price a supplier or brand owner will allow you to sell a particular product.
MOQ
Minimum Order Quantity The minimum amount of product you can purchase from a supplier in one order.
MSRP
Manufacturer's Suggested Retail Price. The price point the manufacturer recommends that a seller price an item at.
OA
Online Arbitrage. Buying products online to sell on Amazon.
OTC
Over The Counter. Non-prescription drugs that can be sold on Amazon..
PL
Private Label. Purchasing an unbranded product, and packaging with with your company's brand.
Q1
1st Quarter of the Year (Jan-Mar)
Q2
2nd Quarter of the Year (Apr-Jun)
Q3
3rd Quarter of the Year (Jul-Sep)
Q4
4th Quarter of the Year (Oct-Dec)
RA
Retail Arbitrage. Buying products retail stores to sell on Amazon.
Replen
An item that customers consistently reorder.
ROI
Return on Investment. The benefit (or return) of an investment divided by the cost of the investment.
UPC
Universal Product Code. A12 digit barcode found on almost all retail products.
VA
Virtual Assistant: A paid assistant who works exclusively online.
WA / WS
Wholesale Arbitrage/Wholesale. A business model where sellers buy inventory in bulk through a distributor or manufacturer.
WL
White Labeling. Buying an the item from a manufacturer but having them brand it to your company.
YMMV
Your Mileage May Vary. A process or hack that may vary in effectiveness.