Amazon bundles are items sold together in one listing. Anyone with an Amazon account can create a bundle. The items have to be physically packed together. That's before they're sent to the Amazon warehouse (or the customer). Here's a quick example: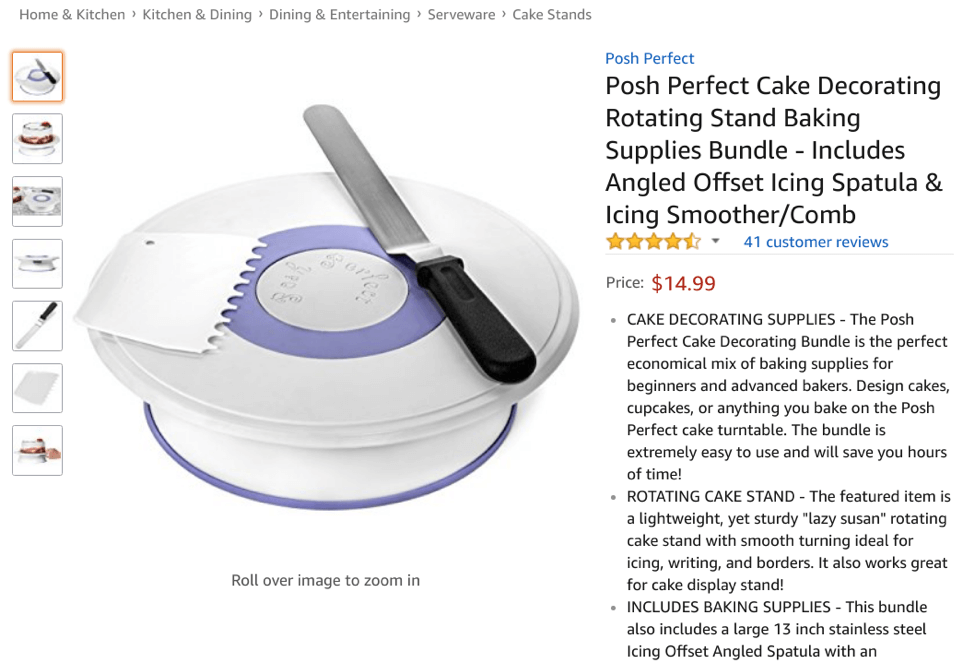 The seller of this cake decorating stand has bundled it with an icing spatula, and icing smoother. They may have individual listings for the items in this bundle. But the bundle itself is a separate listing. So the bundle has its own images, description, keywords, reviews, and ranking.
Why Sell Bundles?
Fewer Fees:
Many items bundled together will have the same Amazon seller fees as a single item, so you'll save money on fees. Let's say you're selling a hairband. The fees for that would be around $3.50, so you'd need to sell it for more to make a profit. Not many people will buy a hairband for more than $3.50.
But, if you sell a bundle with a hairband plus a hairbrush, the fulfilment fee would stay the same. You could sell that bundle for $3.50+ easily, and make a profit.
Higher Profit:
You can bulk up the low profits you'd make from low margin items, by selling high margin items along with them. If you're selling the latest branded digital camera, the margins are low, around 3% if you're lucky.
Profit selling single product
Camera selling price:
$200
Profit:
$6
But, let's say you bundle with a high margin item, like a camera case:
Profit selling bundle
Camera + case selling price:
$235
Profit:
$20
Beat the Competition:
You can stop competing on price and deliver a better experience to your customers instead. Let's say 50 sellers are selling the same sort of soap dispenser. A few have fancier logos, or nicer packaging and colors, but they're basically the same. Rather than trying to compete with all of them on price (or more reviews, better descriptions etc.), you could bundle the soap dispenser with some soap. You'd jump out from the competition in the search results. You could probably even price your bundle the same as all the other lonely soap dispensers. Then knock the competition out of the water, and still make a good profit.
Get the Buy Box:
Because bundles count as separate listings, it's similar to selling your own branded product. Multiple sellers can sell the same product on Amazon. Sellers compete to get the buy box. They compete to be the ones who get the sale when the customer clicks the "add to cart" button. You won't have to compete with others who are selling the same thing. Because your bundle is a separate listing that you've made.
With bundles you'll automatically have the buy box, and get the sale every time.*
*Make it hard for others to copy your product and "hijack" your listing (by getting the buy box from you). You can do this by branding your products, sourcing unique products, or getting products from multiple sources.
Are Bundles Good For Beginners?
Amazon product bundles are perfect for beginner sellers. They're one of the easiest ways to start making a profit.
If you've looked into selling on Amazon, you'll know it's a good idea to build up your brand. That way you can charge a premium, because people trust your brand and your products. Building up a brand, a reputation, a following: this all takes a long time. This is where many beginners get stuck. They struggle to make a profit without charging a premium. But they don't have enough money to build up a premium brand.
With bundles, you don't need any of that. You can find a profitable bundle (SupplySpy makes this easy, keep reading) and make money from day one. The key to this is to create a useful combination of products that people want to buy.
Amazon's Policy on Bundles:
Amazon allows bundles, and has specific rules for bundle listings.
The full policy for bundling listings can be found here: https://sellercentral.amazon.com/gp/help/external/200442350
Here are the most important points:
Bundled products must be "highly complementary". So you can't have a light bulb and a spatula. But a spatula and a spoon would be okay.
Titles must contain the words "bundle with", in these formats:

[Main Product title] + "Bundle with" + [Bundle Component Product title(s)]
OR
[Main Product title] + "Bundle with" + [Bundle Component Summary] + "(# Items)

Bundles must be listed in the category of the product with the highest price.
If using a UPC code, it must be a new UPC code specifically for the bundle. Don't use the UPC code from one of the products in the bundle.
If the item is a multi-pack, it should be listed as a single product and not a bundle.
The first feature bullet must state that the bundle is of "X" number of items. You must state the products that are in the bundle in the first bullet and the description.
Returns: You must accept the entire bundle as a return and refund it as a single unit.
Don't include generic products in bundles. Don't mislead customers into thinking the generic products belong to the same brand as the branded product.*
* You'll notice that countless bundle listings on Amazon have branded and generic products together. Many have been listed for years, some are Amazon vendors, and some even have the coveted "Amazon's Choice" badge. In my opinion, the most important part of this rule is: "do not mislead customers". However, please take this with a grain of salt. We are not responsible for your Amazon account.
Profiting from Bundles
Amazon Fees
With bundles, the items you chose to sell don't have to be profitable as a single item. Let's have an example of how much extra profit a bundle can net you:
If you sell an item for less than $5 on FBA, it's difficult to make a profit. This is because the fees are usually at least $3.41.
But let's say the product costs $0.50 to buy and ship to the Amazon warehouse.
Selling it on its own would net you $1.09 per sale, assuming $3.41 in fees: (($5 - $2.41) - $0.50))
Now let's say you sold 2 x $0.50 items as a bundle, and you could sell the bundle for twice the price, $10.
If both products together weigh less than 0.75lb, your FBA fee would stay the same: $2.41.
Because of the increase in sale price, your Amazon selling fee would likely increase to $1.50.
So instead of netting $1.09 per sale, with two products bundled you'd earn:
| | | |
| --- | --- | --- |
| | Single Product | Bundle |
| Sale Price | $5 | $10 |
| Product price X qty | $0.5 x 1 = $0.5 | $0.5 x 2 = -$1 |
| FBA Fee | -$2.41 | -$2.41 |
| Amazon Fee | -$1.00 | -$1.50 |
| Profit | $1.09 | $5.09 |
So for the single 50 cent item, you'd net $1.09. But for the bundle of two 50 cent items, you'd net $5.09. It's the same effort as selling an individual item. But from the bundle you'd earn over FOUR TIMES as much from a single sale. Of course this effect can be multiplied by adding many items to bundles. On Amazon you'll see bundles that have 100+ items. Done right, this can mean huge margins and huge profits.
Item Weight
The major caveat is the item weight, and dimensions. If you're choosing light and small items, and you can keep the weight under 1lb, your fees will stay at roughly $3.50. If you go over that 1lb limit, the fees increase. Whilst you can still make a profit with higher fees, you need to make sure you calculate your margins (and weight!) accurately. When using SupplySpy to find profitable items to bundle, you can sort lists of items by ROI or Profit. Then just click the item and it will show the product weight and Amazon fees:

How to Create a Bundle:
Bundles are listed in the same way as normal listings. Go to Seller Central on the Amazon website:
Go to Inventory
Click Add Product
Search or choose the category of the most expensive item.
Fill out all the product info.
In the product ID select UPC in the drop-down menu.*
* If you chose to use one, you'll need to use a brand new UPC code. You can get these from the GS1 website here: http://www.gs1us.org/ Or, you can get a "Barcode Exemption" which means you don't need a UPC code. We'll get into that in a minute.
Amazon bundles need to be packaged together before they are sent to Amazon or the customer. They need to be in the same box, bag, or wrapped up together in some way. Ask the supplier to package the items together, or do it yourself.
Once created on Amazon, each bundle listing will have its own single FNSKU barcode. This needs to be placed on the packaging.
Images and Keywords:
This is where your listing can stand out in the search results. Amazon's policy states you should show all the products in your bundle in the first image. You have all these awesome products in your listing, so show them off!
You'll want to use the rest of the images to show each of the individual items in detail. Bear in mind the same image rules for regular listings apply for bundles as well. With multiple items in your listing, the amount of keywords you can be listed for has grown substantially. Take advantage of that by using popular keywords for each item in the keyword section of your listing.
Bundle Barcode Exemptions
Most people think to create a bundled listing you need to pay for a new barcode. Note: GTIN (sometimes known as a barcode, or Product ID), is an all-encompassing term for either a UPC, EAN, JAN, GCID, or ISBN. These are types of barcodes. Not to be confused with a FKSKU barcode, the label used to identify items dispatched by FBA. If you're selling a bundle, you don't need a GTIN at all.
It's known as GTIN Exemption, and you can read Amazon's help page about it here:
https://sellercentral.amazon.com/gp/help/external/help.html?ie=UTF8&itemID=200426310&
You'll see that in most cases, to get a GTIN Exemption you need a letter from the manufacturer. With bundles, all you need to do is provide a list of the products you're bundling, and apply for an exemption. Just click on the "Request Approval" link on that page. From there you'll have to download the template (which you can edit in Excel or Google Sheets). In that template you'll need to fill out the information including the list of products, the proposed title of the listing, and the SKU (The SKU is up to you, it's just a code to identify the listing). You'll also have to upload images of the products (use a site like https://imgur.com/). Then copy and paste the URL of the image into the template. After you've uploaded that template, you'll usually get a reply by email in 1 - 2 days. If approved you'll be allowed to list in the categories you've chosen without giving a GTIN code.
Approval lasts for 90 days. After that you need to apply again to list new bundles without a GTIN. Listings you've already made will stay active.
You'll now notice when you create a listing in those categories, you can leave the Product ID field blank:

Instead, click "Advanced View", and under "GTIN Exemption Reason", select "CustomProductBundle":

Now you can click "Save and Continue", and your bundle listing will go through without a GTIN.
The Psychology Behind Bundles:
Bundles aren't just from Amazon. Bundling is a marketing tactic that's been around for years. Once you start looking for them, you'll see bundles everywhere:
Cable TV bundles.
Game console bundles.
Food assortment packs (sweets, cereals etc.)
Insurance bundles.
Computers and phones bundled with software.
Why am I telling you this? There's many people just looking to make a "quick buck" from bundling on Amazon. But that's not why Amazon allows bundles. Quoting from their policy, bundles must "provide convenience to the buyer by purchasing them together."
According to Amazon rules bundles must provide convenience to the buyer by purchasing them together
And that's the key to making good profits. Giving the most value to your buyers. People do want to buy bundles. They make people's lives easier.
The Mindset of Bundling:
When thinking of product's to bundle, think about the experience the buyer is looking for. Then enhance that experience. Let's use an example from further down the page:
Someone is buying special "shredding claws" to help prepare shredded pork. It's a safe bet they're getting damn serious about shredded pork. It's highly unlikely they bought special shredded pork shredding claws on whim, just in case they might one day need them. Right? They probably want to invite their friends over and serve them the best shredded pork they've ever tasted. They want their friends to talk to their other friends about how good it was, and how good they are at cooking.
So what will enhance the buyers experience, and help them reach the goal they're trying to achieve with your product? A slow roasting recipe book would go down well. Something that helps them impress their friends. Something that helps them make the best damn slow roasted shredded pork anyone has ever tasted.
Creating Value
Imagine a customer searches for car washing sponges. They all look pretty similar, and are between $3 and $5. When the customer sees a sponge for $13, they're not likely to go for it. By looking through that page they've automatically, subconsciously decided: "sponges are worth four-ish dollars".
If they see a listing that has a sponge, bucket, some wax, and cleaner, they haven't yet decided what that lot is worth. They don't know. It's worth whatever amount you've listed it for. And it's worth as much as the value it gives that buyer.
Comparing apples to apples is easy. But comparing apples to... apples plus plums? Not so much.
By creating a bundle you're no longer competing with non-bundled products. You're out of the running: you're running a completely different race.
Amazon Bundling Mistakes:
Here's a good example of what not to do. Halloween decorations and a book called "How to Live Stress Free":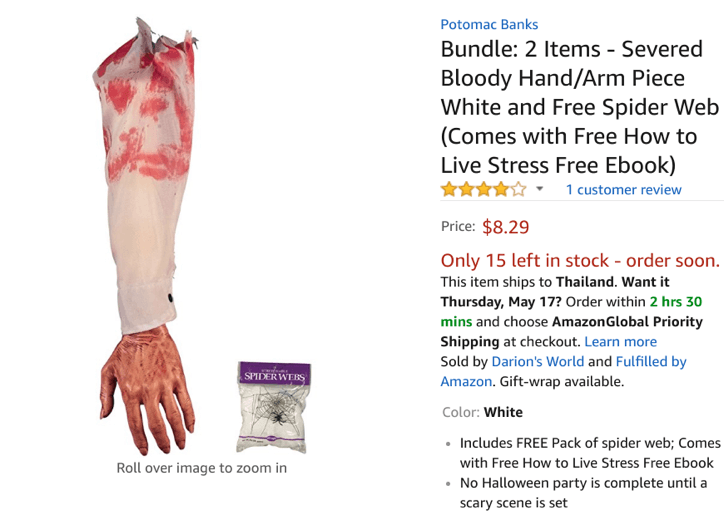 This listing is likely to be removed by Amazon soon, for 3 main reasons:
Irrelevant items bundled together. Not only are they not thinking about their customer, it goes against Amazon's bundling policy.
They've clearly stated the spiders webs and eBook are free. Again this is not allowed. You can't give away free items with your listings.
The free eBook is a downloadable product. The items you bundle must be physical products.
Finding Amazon Bundling Ideas
One of the simplest ways to get ideas is to go to any product page and look at the "Frequently bought together" and "Customers who bought this item also bought" sections: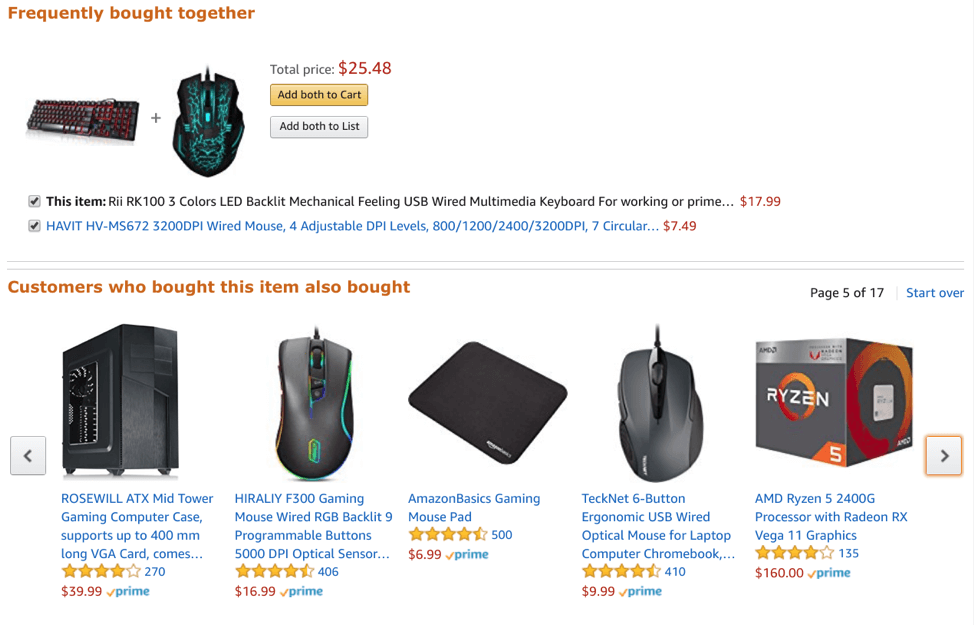 Spend an hour or two on Amazon searching through products and these sections. If you remember your main goal is to create value for your customers, you'll come up with some good ideas.
If you're a member of SupplySpy, you can use the bulk analyzer to find products to bundle. Just import the UPCs from a supplier in our database, then click "View ASINS".
From there you can search by keyword. Look for popular products by sorting the list by Sales Rank (lower the better).
Once you've found a suitable item, click on the ASIN to view the full stats. Weight is an important stat if you're bundling, so be sure to check you've picked light items.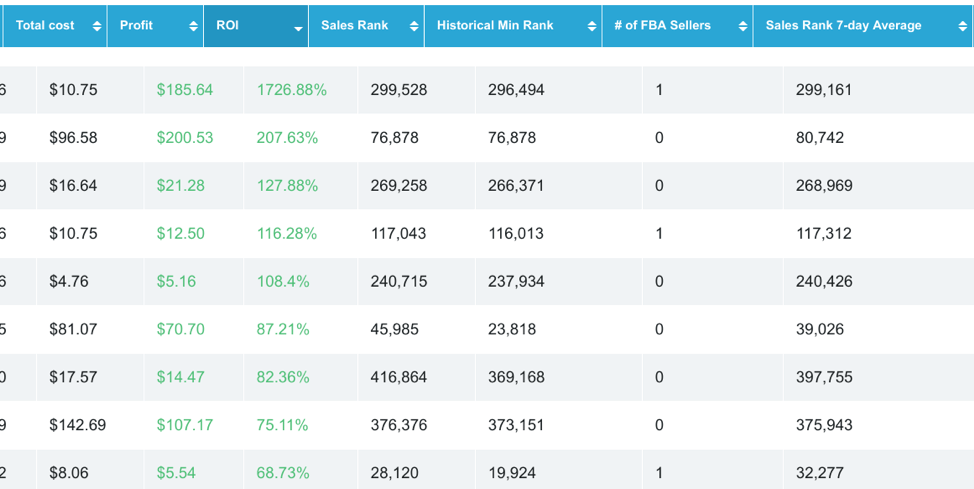 Just to get your brain juices flowing a little bit, here are a few examples of bundles:
Branded Item Bundles:
Many sellers list branded products (usually with low margins) along with unbranded accessories. The high margin accessories "prop up" the profit of branded item, so the bundle as whole makes a good profit.
Be sure to read Amazon's Bundling Policy (https://sellercentral.amazon.com/gp/help/external/200442350), and never mislead your buyers into thinking a generic product is a branded one.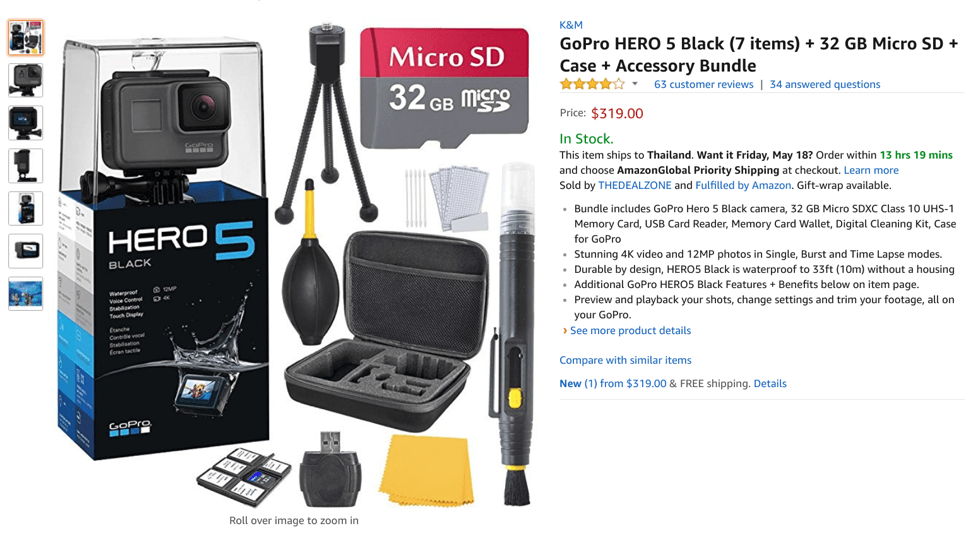 Other examples include:
Top brand toiletries
Fashion accessories
Other electronics
Multi-pack Bundles:
Multi-pack bundles are bundles with multiple versions of the same or similar products. Don't forget that if your bundle is simply a multiple of the same product (like a 4 pack of socks, or a 2 pack of toothbrushes), it needs to be listed as a multi-pack, not a bundle.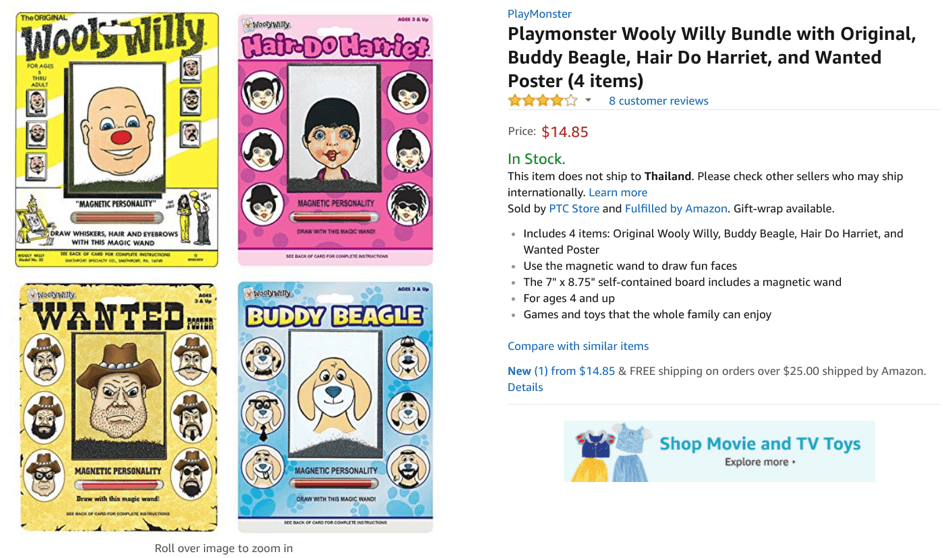 Other examples include:
Arts and Crafts
Toiletries
Clothing
Info Product Bundles:
Info products (Books, guides, videos) are a great way to increase the perceived value of your bundle. They enhance the experience for your buyers.
Don't forget that these must be physical products (not downloads) or your listing could be taken down.
Also if the main* item in your bundle is a book (or DVD, CD, etc.) then you can't bundle it. * Up for interpretation, but Amazon most likely mean the most expensive item.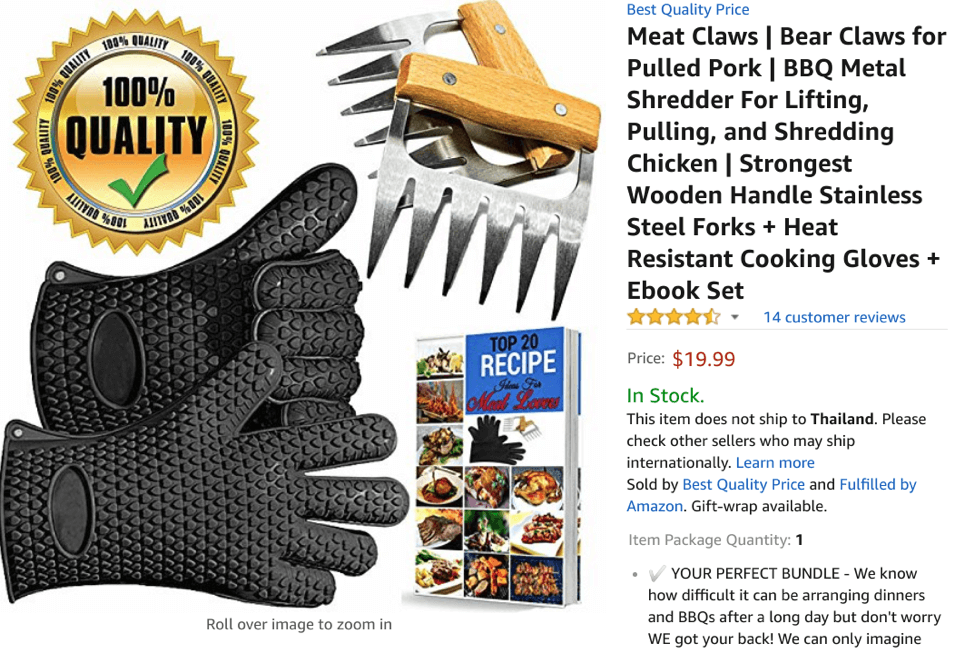 Other examples include:
Fitness
Gardening
Musical Instruments
Large Bundles
The sky is limit with bundles! And within reason, the more items you add, the more profit you'll make from a sale. The trick is to balance the amount of products with the price/value. If you add too many products your bundle becomes too expensive, and you won't sell as many.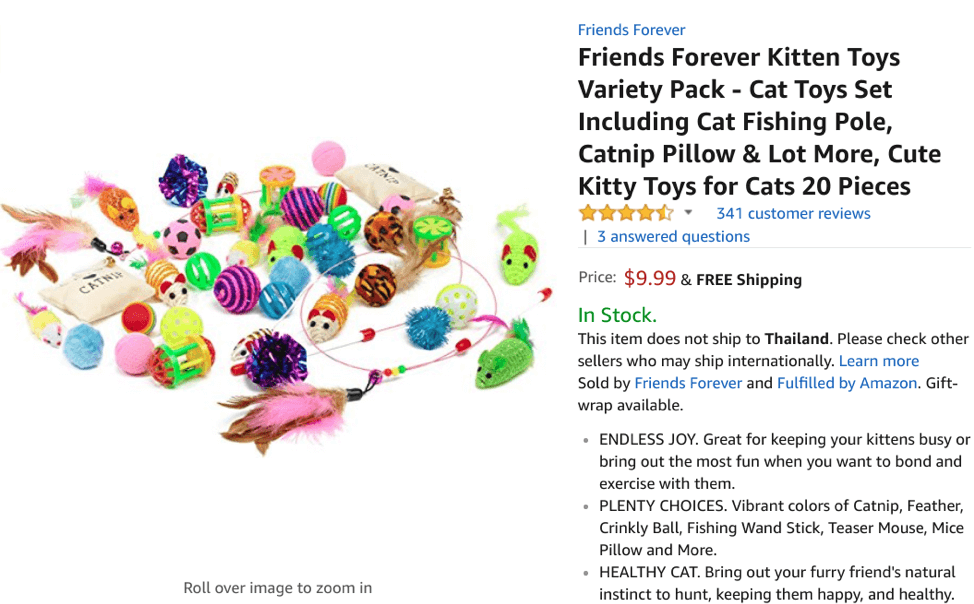 Other examples include:
Baby products
Mobile accessories
Bath toys
Themed Bundles
Items in bundles must complement each other, so be careful with this one. Some sellers have had significant success selling holiday themed bundles (Easter, Christmas etc.)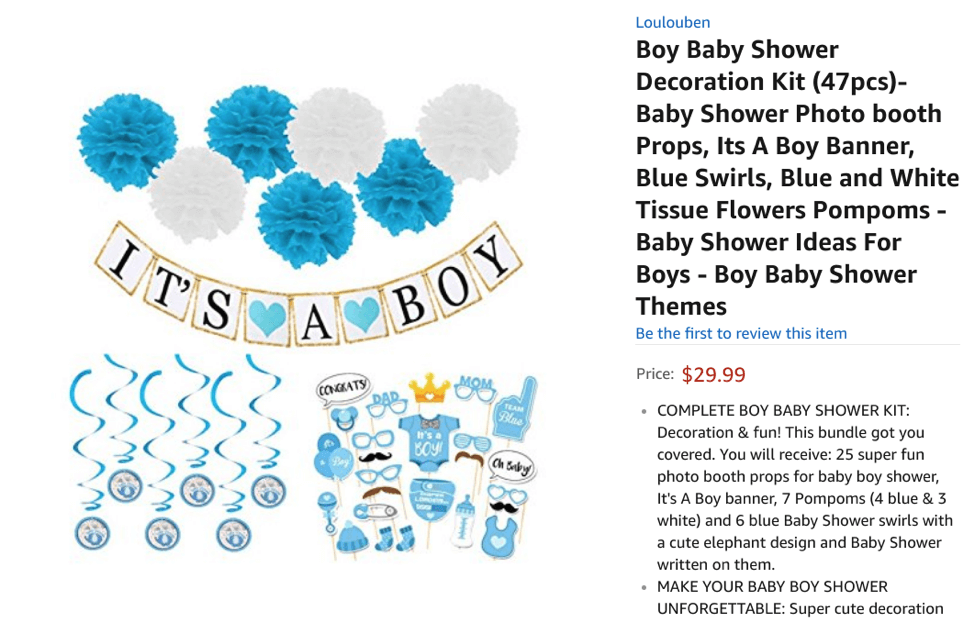 Other examples include:
Holidays themed
Sports themed
Animal themed
Experimenting
Bundles are a fantastic opportunity to experiment. If at first you don't succeed, try again. That's the beauty of bundles: you can make as many as you want. You can test product A + B together, and if that doesn't work, you can try product A + C, or A + B + C.
You can test results between two different bundles, and decide where your time and effort should lie. Overall, have fun with it! Bundles are a great way to make profit, have fun, and learn about building value for buyers.