These stats may sound like a tech startup, but they actually belong to one of Amazon's biggest third-party vendors -- Pharapacks.
What was once a mom-and-pop retail pharmacy in the Bronx is now an internet sensation. They exploded when they started putting their products online 7 years ago.
In case you think this is a Cinderella story, it's not. Almost 20% of professional Amazon sellers had more than $1 million in revenue last year.
If you're a small business owner, chances are you've considered selling on Amazon at some point in the last decade. After all, Amazon is an e-commerce powerhouse: In a single month of 2017, it garnered 197 million unique visitors.
In addition to an enormous global customer reach, Amazon's extensive distribution system and seller tools make it easy for small (and large) businesses to scale beyond what they could do alone.
So now you're wondering…how do I start an Amazon business? Don't fear! We've created a comprehensive step-by-step guide to get you started. Make sure to bookmark this guide -- we'll be adding and updating since Amazon continually makes changes to their system.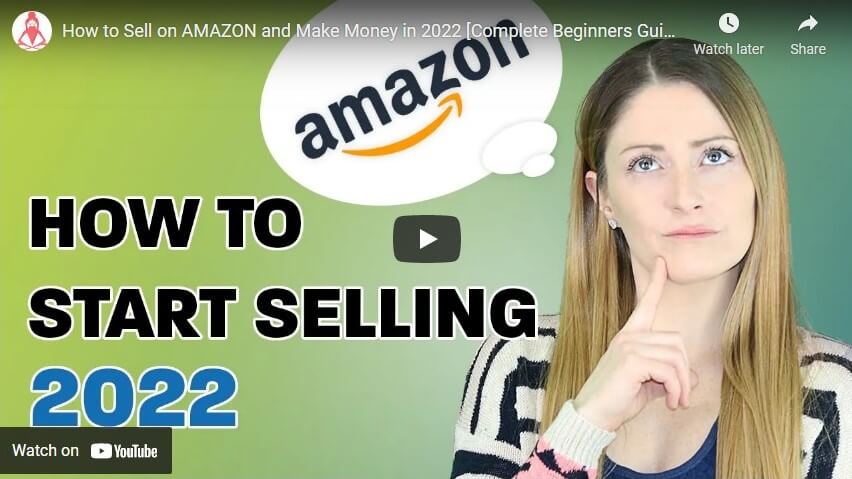 ------------------------
First Steps to Freedom (An overview)
First, it's important to understand exactly what Amazon is and why it dominates the e-commerce world.
Amazon is the world's third-largest retailer. It ranked No. 53rd on Forbes' 2018 Global 2000 list of the world's biggest and most powerful public companies (based on profits, revenues, assets and market value.)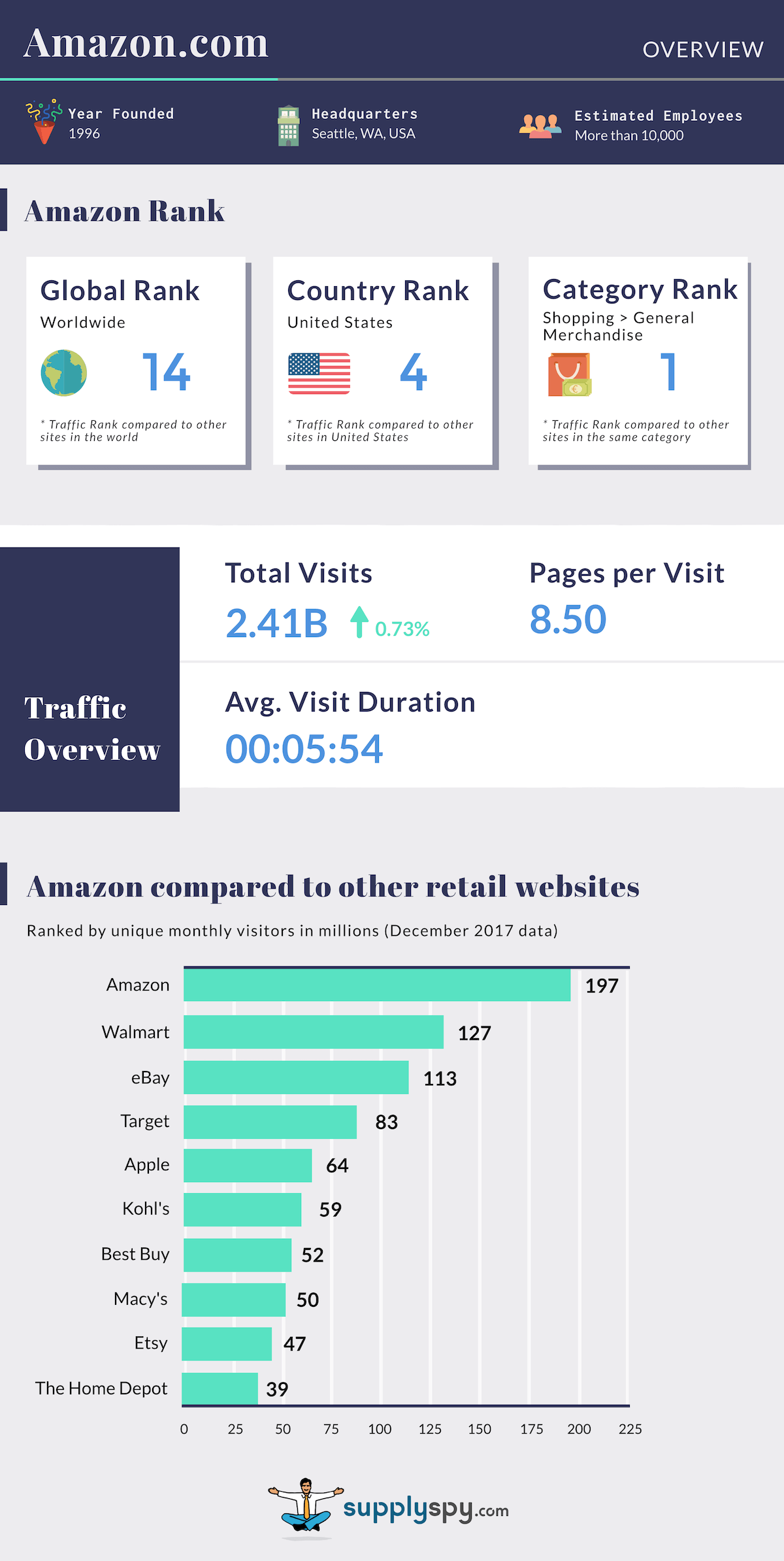 Amazon sells many products themselves, but third party sellers (outside business like you and I) make up more than half of their annual revenue.
Unlike eBay, where a single product could have dozens of listings, Amazon has a listing for each product which sellers share.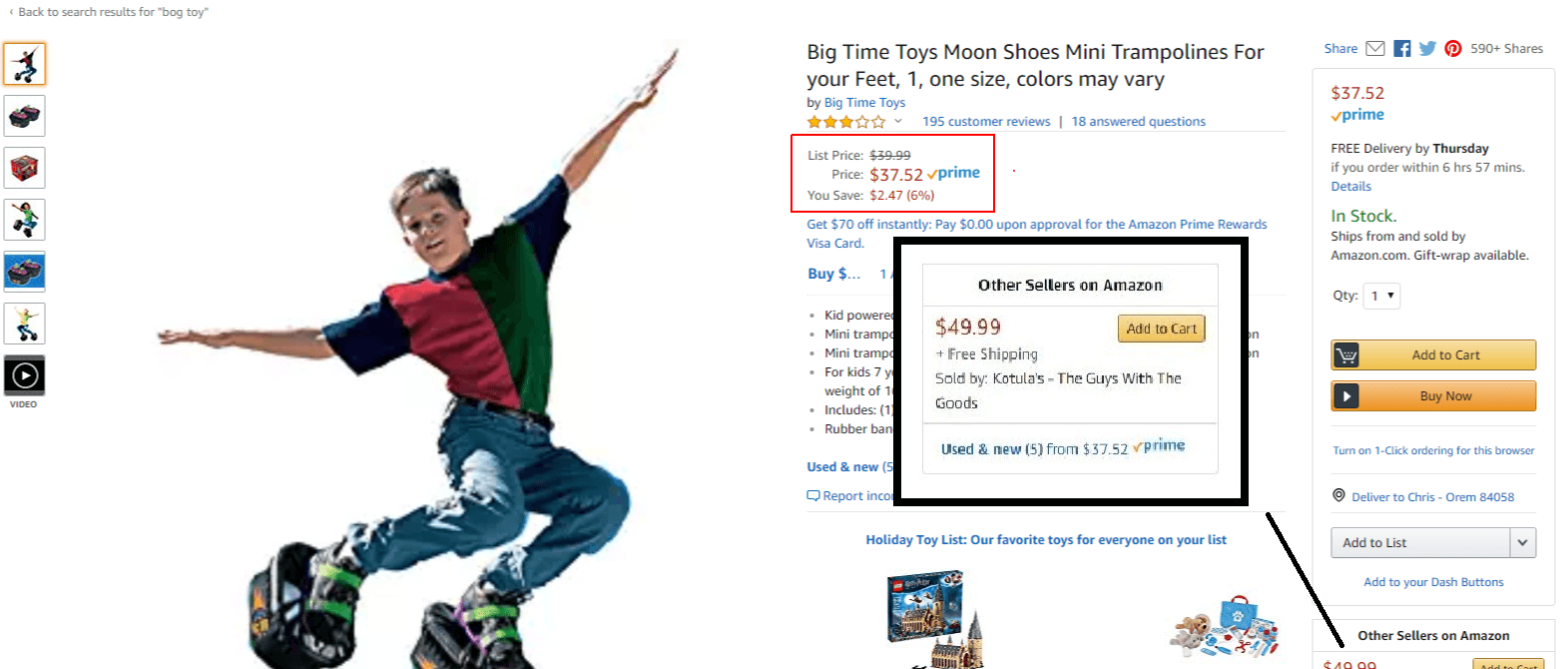 The "buy box" (highlighted in red) rotates between sellers, but offers from each seller can be seen by clicking on the "used & new" link on the sidebar of the page.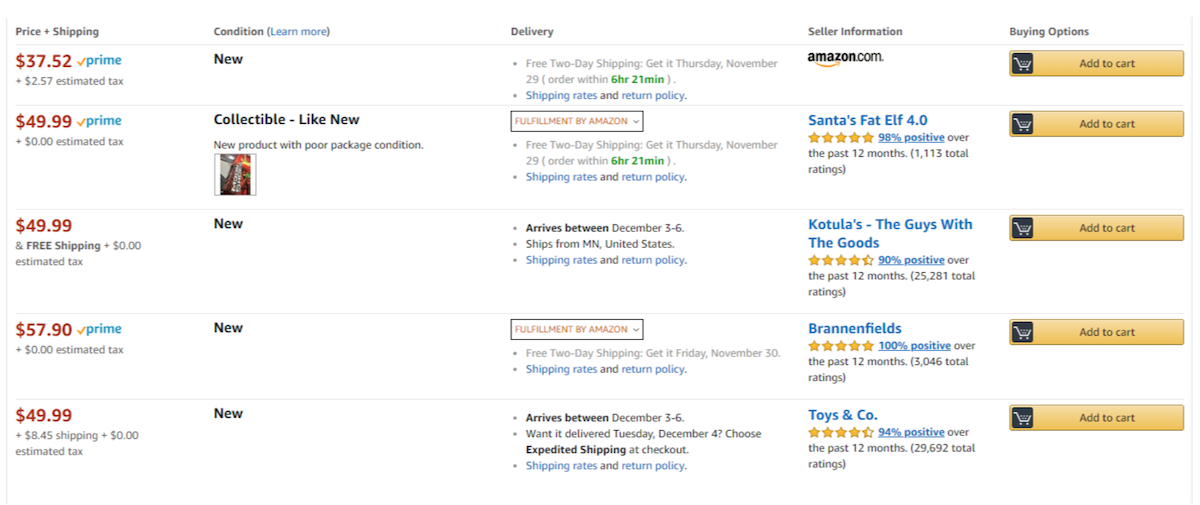 These are the different offers (of the same product) from each seller.
Before you run out and list some products, let's talk about a few things you should do to prepare for your selling journey. Amazon has a steep learning curve, especially if you're new to e-commerce. Before you jump into the fray, here are a few things to remember:
1. Input=Output
An Amazon business will grow as little (or as much) as the time you put into it. Whether you're out for the big bucks or you just want a side-hustle, decide ahead of time exactly how much you want to put into this business.
2. Research
Read, read, read. You wouldn't open an Italian restaurant if you didn't know anything about pasta. The same goes for Amazon. In addition to this document, here are a few incredible (and free) resources for you to learn from:
Amazon's Seller Forum -- If you have a question, there's a 99% chance someone has asked it in the forum. From suspension letters to backend issues, there are hundreds of issues addressed every day within Amazon's seller message board. Don't trust everything you read -- after all, there are many sellers who pass along misinformation -- but do use it to gain background knowledge and be aware of common problems. It's good to learn from your mistakes. It's better to learn from other people's mistakes.
Local Meetups -- Did you know almost every major city in the U.S. has regular networking events for Amazon sellers? These sellers are usually more than happy to share their stories and experiences with you. This information is free and having friends in the business can prove invaluable.
Our Blog -- Each week SupplySpy releases exclusive blogs and Youtube videos with a wealth of information on Amazon selling. You can subscribe to our weekly email and our Youtube channel.
3. Follow the rules
The number #1 reason new sellers are suspended is that of small infractions. If you cut corners and try to take advantage of Amazon, the consequences will hit at some point and your account will be penalized, or even terminated. Periodically check Amazon's selling policies here.
------------------------
Prep Your Documentation
Before you're run an Amazon store (or even apply for an account) you need to run a business. There are a few key documents you need to have on hand before creating an Amazon FBA Account.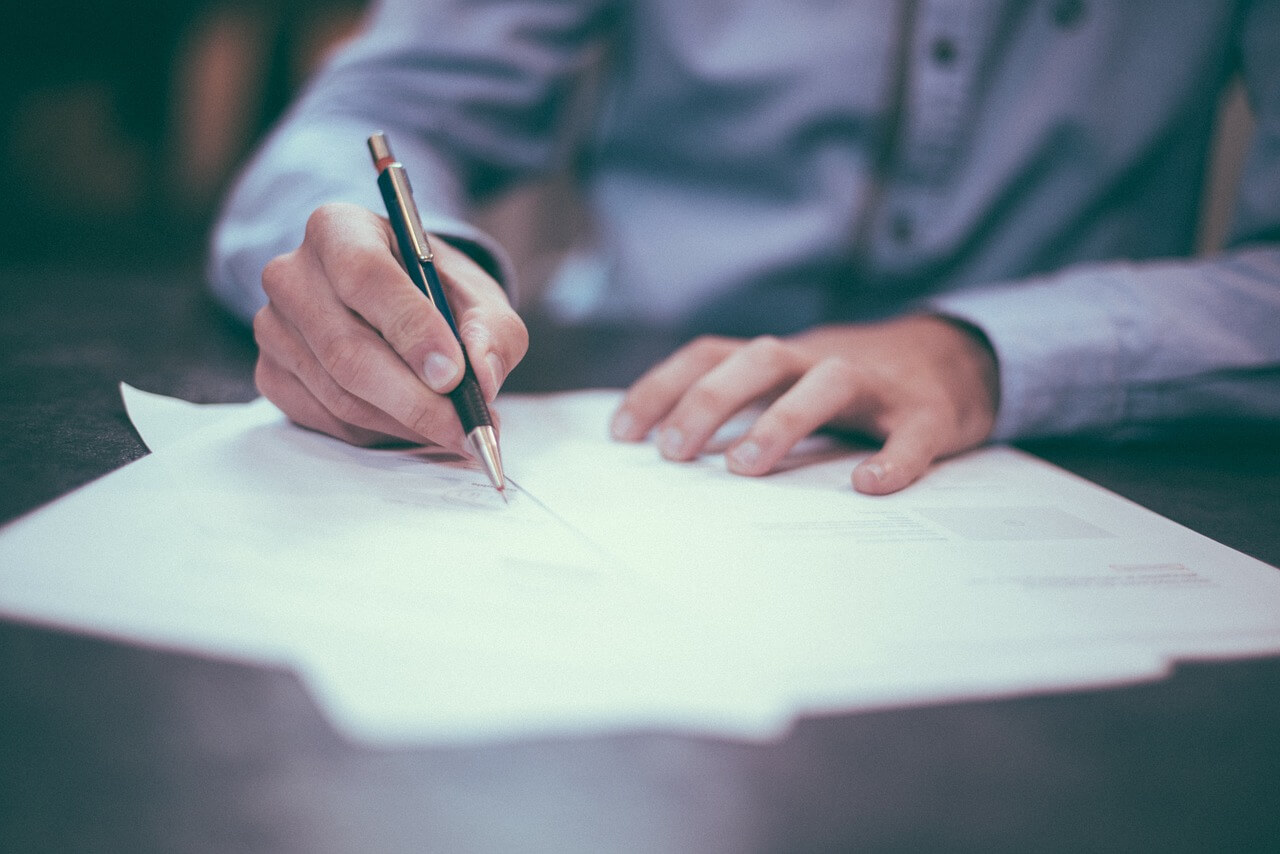 During the application process, Amazon may not request every piece of documentation but every seller should have these on hand in case Amazon decides to verify or review an account. You'll need:
Federal Tax Id or social security number
The federal government issues a nine-digit number to identify any business operating in the United States. You can get one for free at IRS.gov. You can also use your social security number to create Amazon account -- just be aware that without a business, you can be personally liable for any problems that arise.
A tax professional
If you plan on growing your business to more than a couple thousand dollars a month, get a professional CPA (Certified Public Accountant) (preferably with e-commerce experience) who will take care of your finances. It's a small decision that will pay big dividends.
Insurance
If you're running a warehouse or anticipate doing more than $10,000 in sales right off the bat, you'll need a business liability policy. We cover this in depth here.
A credit card
Every seller must have a valid credit card on file. Amazon keeps this card info in case you have a negative account balance. Don't put in a debit card or a prepaid gift card -- Amazon occasionally runs these cards to validate them and will freeze your account balance if they find a card that's not in compliance with their terms of service.
A business license
Amazon wants to know you're a real business. Make sure to complete registration in all applicable jurisdictions before creating an Amazon account.
State Tax Id
A state tax ID is used exclusively for state tax reporting. They aren't usually requested by other agencies or third parties, but suppliers may ask for it as you're setting up wholesale accounts. You'll also need a tax ID to file state payroll returns if you have employees.
Phone Number
This is kept on file in case Amazon needs to contact you. It can also be available to your customers if you choose.
Bank account number
Amazon can only make payments to a valid bank account -- they won't send money to a prepaid card or through a third party service.
A utility bill
Amazon routinely reviews seller accounts and requests this piece of documentation with name and address visible. Again, they want to know you're a valid business.
Need help creating an account? Here's a step-by-step guide.
------------------------
Different Selling Structures
Before starting the "official" process for opening an Amazon account, you need to decide how you want to sell your products. Amazon provides two basic methods, Fulfillment by Amazon (FBA) and Fulfillment by Merchant (FBM).
FBA
With FBA, Amazon takes care of almost all of the work. They store, pack, and ship your inventory, as well as handle customer service. If a customer has an Amazon Prime account, they receive 2-day shipping on any FBA product. Since most Amazon customers use Prime, they're more likely to choose these products, giving FBA sellers a huge edge. As a seller, the only thing FBA sellers are responsible for is shipping inventory to Amazon -- they sort out the rest.
FBM
FBM (Fulfillment by Merchant) puts a seller in charge of the whole process. When a customer puts in an order, Amazon will instruct the seller to pack, ship, and upload a tracking number if needed. If a customer needs to return an item, it will automatically come back to the seller.

Read more about FBA vs. FBM here.
Costs
Using FBM, you typically pay a flat 15% referral fee. It's important to be aware of FBM shipping costs ahead of time -- an 80lb office chair is much more expensive to ship than a book.
FBA fees are more expensive (usually about 35% of the sales price for a regular-sized item), but the program frees up a lot of time you would otherwise spend on fulfillment, return, and/or shipping related customer support. We recommend all new sellers start with FBA -- it brings faster sales and generally takes less time and overhead than FBM.
If you don't have the infrastructure to store your inventory in a house or warehouse, FBM is a bad choice. Your workflow and layout need to be carefully planned to avoid the chaos that can come with storing hundreds (or thousands!) of items.
If your business doesn't have the manpower to ship every day, don't consider taking fulfillment upon yourself. Amazon takes late and canceled shipments seriously. One bad move can be the end of your business.
Monthly Subscription Fee
There are two different types of account Amazon offers it's sellers -- an Individual plan and Professional seller plan. The individual plan is free, but sellers pay a per item fee for each unit sold. The pro plan is $39.99 a month.
Being a professional seller gives access to a number of perks:
No per-item fee
Ability to calculate U.S. sales and use taxes on your orders
Access user permissions/grant access rights to other users
Use of Amazon's advertising platform
Promotions, gift services, and other special listing features
Eligibility for listing placement in the Buy Box
Items Fees
Amazon charges a $1/item for individual sellers. Professional Sellers don't pay this.
Referral Fee
Sellers pay a referral fee for each item sold. This fee varies by category but is generally 8% of sale price for electronics and 15% for most other categories. A complete chart can be found here (You'll need a seller account to access).
Shipping (FBM only)
Sellers that fulfill items themselves must pay shipping costs out of pocket. This can either be done through Seller Central, which comes directly out of your twice-monthly Amazon payout or independently, utilizing USPS, which can be cheaper in some cases. Some categories (such as books) are eligible for a shipping credit that is added back into your payout.
Fulfillment by Amazon Fees
More than 60% of sellers use Amazon's FBA program to warehouse and ship their items. These FBA fees can be broken down into a few categories.
Fulfillment Fees
This includes the cost of picking and packing your orders, shipping and handling, and customer service. These fees depend on the item classification which is based on the weight and dimensions of an item being sold. An item generally falls into one of the following categories:
small (under 1 lb),
large (1 lb or less),
large (1-2 lb) or
large (2+ lbs).
For example, an item less than 12 ounces and smaller than 15" x 12" 0.75" is considered small and incurs a flat fee of $2.41. Any items over 20lb are considered "oversize" and incur additional fees per pound.
A chart detailing specific fulfillment fees can be found here.
Monthly Inventory Storage Fees
Monthly inventory storage fees are based on the classification of the item (classification process mentioned above) and the month that the fee is applicable. These fees are assessed per cubic foot and are currently as follows:
January - September

Standard-size: $0.69 per cubic foot
Oversize: $0.48 per cubic foot

October - December

Standard-size: $2.40 per cubic foot<
Oversize: $1.20 per cubic foot
Fees are typically charged between the 7th and 15th day of each month for the previous month of which the fee applies.
Long-Term Storage Fees
A monthly storage fee is charged for all units stored in an Amazon fulfillment center for more than six months. This fee is based on the calendar month and daily average volume. This is a major shift from the semi-annual fees Amazon has been charging for years. On the 15th of each month, Amazon will charge:
$3.45 per cubic foot for items that have been warehoused for 181-365 days
$6.90 per cubic foot for items that have been warehoused for more than a year
Calculating Fees
Now that you've been lambasted with numbers, here's the easiest way to figure out the exact profit on any item: a free online FBA calculator.
Here's how it works.
1. Find an ASIN you'd like to calculate a profit margin for and paste it the search product box.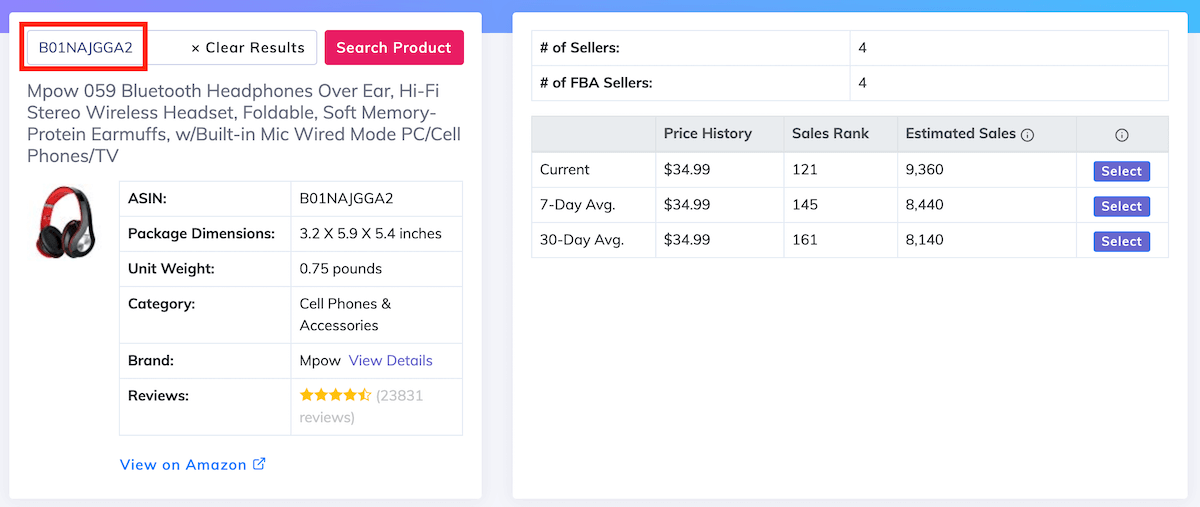 2. Fill in your sell price, cost, and inbound shipping costs. Click calculate.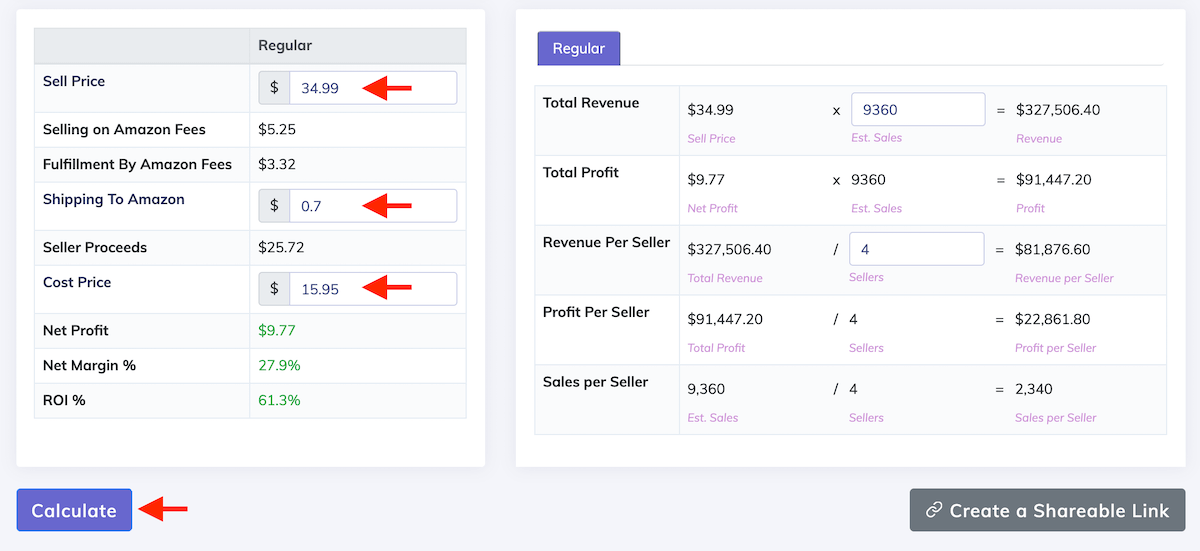 3. Adjust the number of sellers and estimated sales to calculate revenue and profit.

------------------------
Sourcing Methods
There are four main ways to source products on Amazon. No matter which method (or combination of methods) you use, make sure to streamline your research with a free online research tool. Using software allows you to efficiently identify products & brands to work with, track historical sales data and hunt down suppliers that have already been vetted.
Retail or Online Arbitrage
Retail or Online Arbitrage is the art of taking advantage of a price difference between different markets and capitalizing upon that imbalance. In terms of Amazon, this means looking for inventory in physical or online stores, then flipping those products for a profit. From Target to Goodwill, tens of thousands of sellers scour stores to find items that are either on clear-out, discontinued, or hold a higher value outside their region.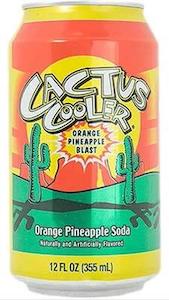 For example, this Cactus Cooler soda is almost impossible to find outside of California, but it has a national demand. Customers in Maine are willing to pay 2-3x the normal retail price since it's not available near them.
Retail and online arbitrage require as much or as little capital as you have on hand -- most of the time you can only buy limited amounts of products at profitable prices. The hard part about arbitrage is that you spend an enormous amount of time looking for products. It's rare to find arbitrage inventory that you can capitalize over a long period of time -- most of the time it's one and gone. Even with the right tools, it's tedious and time-consuming to go to each store and scan hundreds of products each day to keep up.
Amazon is also getting increasingly strict. More and more, you need a manufacturer's approval to sell major brands on Amazon. If a customer comes back and complains that your inventory is inauthentic (even if the claim isn't true), you have little to go by since you didn't have the correct permissions in place. This creates a scenario where you risk getting suspended and/or getting stuck with products Amazon won't let you sell.
Drop Shipping
Drop Shipping is moving goods from a manufacturer or distributor directly to a customer without going through the regular distribution channels. This means a customer orders an item for you, but the item is shipped from a supplier so you never touch it. While the startup cost of drop shipping may be appealing (you don't need any capital to start because you don't actually buy the products until after you sell them), this is a gray area on Amazon. In a technical sense, it's not against the rules, you're putting control of your business into someone else's hands. One slip-up from a supplier can mean you have to face the consequences with Amazon.
Drop shipping is also extremely competitive. As a new seller, it can be hard to make any revenue as most companies are marketing to as many resellers as they can. Also, since the drop shipper handles the products for you and provides other services, you'll never get the lowest prices on products.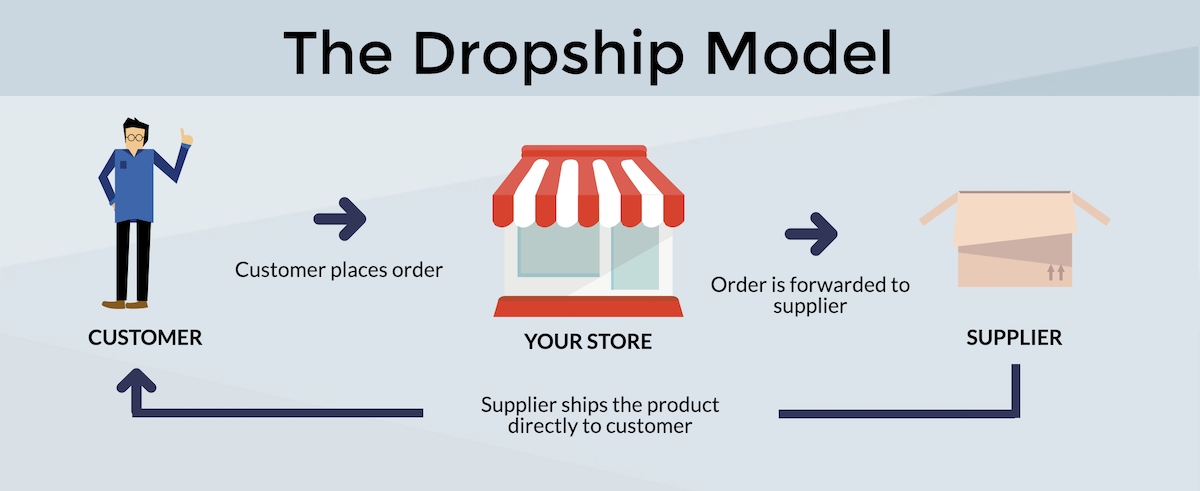 Private Label
Private Label is designating a manufactured product under the name of a retailer instead of a manufacturer. Did you know Costco's tennis shoes are manufactured by Skechers? Or that Great Value peanut butter is the exact same as Peter Pan peanut butter? You probably buy private label products daily without realizing it.
In terms of Amazon, Private Labeling means finding generic products that are already available, putting a new own brand on them, and selling them under the brand that you've created. More or less it's making your own product line.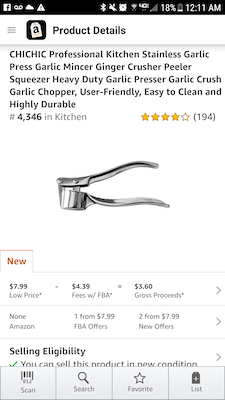 This is an example of a private label product. A seller ordered this item from China and had the packaging branded with their name. Chances are, you or I could find this exact same item (without the brand) with a quick search on Alibaba.com.
The profit potential when private labeling is huge, but it requires high capital and time investment. Most suppliers require a large order, especially when shipping from overseas, which is a barrier for most new Amazon sellers.
Time is an issue as well. Between sample testing, brand creation, manufacturing and shipping it can take months to start earning money. Even with high-margin products, listings will not be instantly popular and getting them to be profitable may require a steep learning curve.
Wholesale
Wholesale is selling goods in large quantities to be retailed by others. This simply means buying products in bulk from good suppliers, then reselling them on Amazon.
It is fairly simple to scale a wholesale business -- if you need more products, you just need to find new suppliers. By building good relationships you will have constant access to top-selling products. Additionally, by paying upfront and buying in bulk sellers get much better prices than any drop-shipping model.
Wholesale does require some start-up costs, but not as much as a private label business since quantities are lower. Wholesale generally have a faster turnaround too -- This means it will be possible to make revenue with a short period of time.
------------------------
Startup Costs
You need very little physical equipment to start selling on Amazon. Here are a few things you may want to have on hand prior to selling:
Computer or laptop
Regular printer
A label printer (Amazon gives you the option of printing items labels for you for a small per-item fee)
Large, open space for shipping prep.
Boxes
Polybags (to protect items that could get dirty).
Packaging Tape
Pallets (if shipping freight)
Other common costs include:
State and local business license and registration
Advertising Costs
Trademark (Private Labeling)
Product Photography Equipment
Ongoing costs include:
Amazon Professional Seller Subscription cost ($39.99/month)
Shipping and inventory management software (Cost varies)
Inbound shipping (FBA)
------------------------
Listing Breakdown
Having a powerful, clear product listing is the #1 way to get sales on a product.
Unfortunately, many Amazon listings lack a basic professional appearance. This can include grammatical errors, bad photography, and incorrect product information.
We're going to break down the elements of a listing. Remember: Creating a listing isn't a one-time investment. It's a smart practice to go through your listings every few months and optimize where you can. You never know when another seller has changed images, descriptions, etc.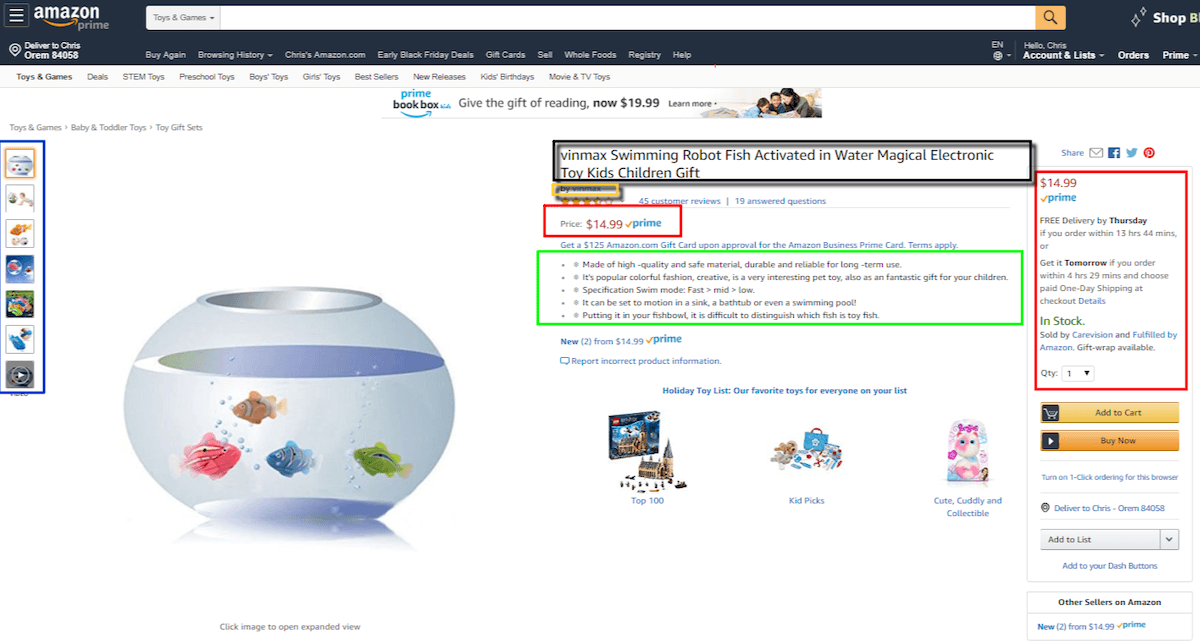 Breakdown
Title
This is the main description of the listing. The title should contain keywords relating to the specific product so it shows up when customers are searching for it.
Buybox
This the section on a listing where customers can directly add an item directly to their cart. This buybox generally rotates between each seller who has the lowest price on the listing. "Winning" the Buy Box simply means that a seller is chosen for the Buy Box placement. Almost all customers sell directly from the buy box, so more time = more sales.
Images
Pictures are the main factor in customers deciding whether they want to buy a product or not. The first image must show only the main product and have a pure, white background. The other images should show the product in use or further describe its features.
Product Bullet Points
These describe the product in more depth than the title. This may include main features, age-range, or other important information a buyer wouldn't know by looking at the images.;
Here's an example of a bad listing: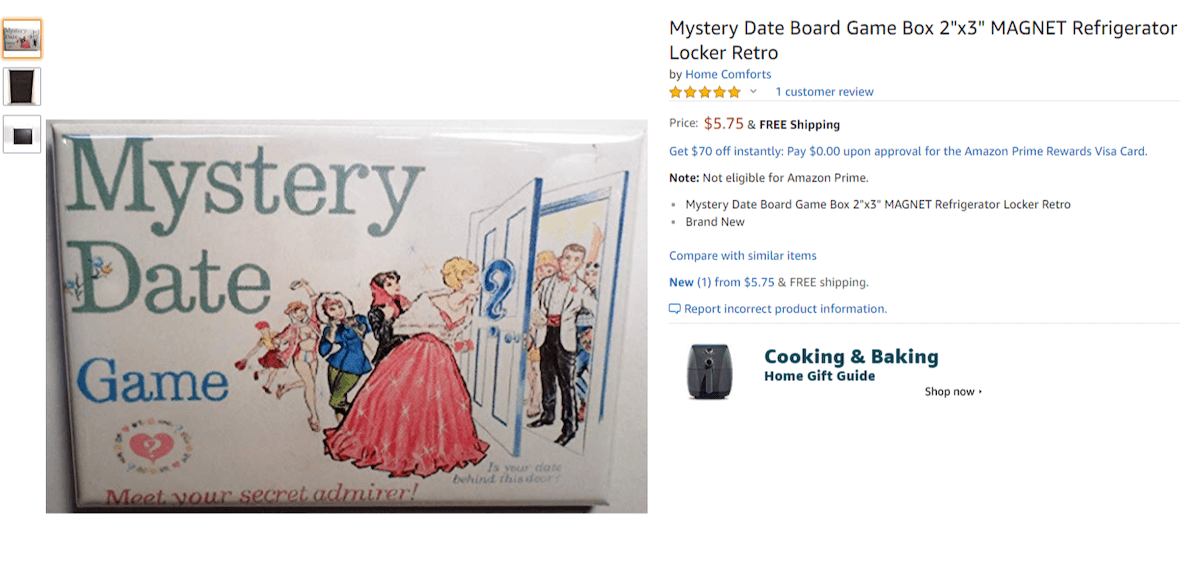 The main picture is low-quality and isn't set on a white background
The supplementary pictures don't say anything about the product
The title is unclear
The features/bullet points don't describe the product and its benefits
Here's an example of an optimized listing: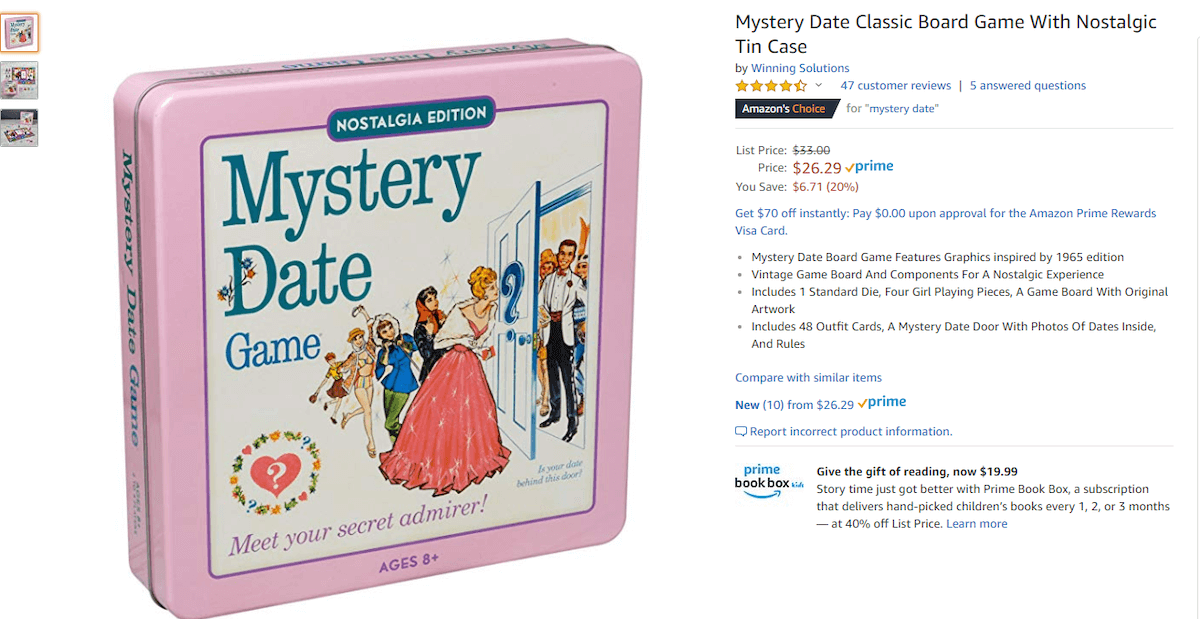 The main picture is high-quality and the background is pure white.
The supplementary pictures clearly show the game in use
The title is informative and concise
The features/bullet points describe exactly what is included in the game.
------------------------
Finding Products
Finding products is simple using ProfitGuru Brands Database to make lists of brands with the most potential. This is also a great way to get private label ideas. Here are a couple tips to get started:
First, search for brands that have lots of high-volume, popular products. Stick with brands that are already well-known. This can be researched quickly by looking at the average product rating a brand has.
Avoid products that only have a few sellers -- any product with under 3 sellers indicates the brand is most likely selling directly (meaning, they have their own Amazon storefront) or they're very strict with opening new accounts. On the flipside, eliminate any brand that has 50 or more sellers. Too much competition can kill margins fast.
Don't want to compete with Amazon itself. They don't share the buybox well, and their profit margins are cut throat.
Create specific parameters before you start searching, or you'll waste a lot of time looking for products that don't fit your business model. Here's an example of a list that helps to narrow down a search.
The retail cost of the product (i.e. the amount that we will sell it for on Amazon) should be between $50 - $60.
The landed cost of our item (product manufacturing, including packaging, plus shipping all the way to Amazon warehouses) should be between $10 - $20.
The product will be a standard size - it needs to fit in a shoebox (or be smaller).
Our product should be under 1 lb.
Learn more about finding products here.
------------------------
Amazon Terminology
If you're a new Amazon seller, chances are you've already seen a bunch of acronyms and terminology that feel confusing. Here are a few of the most common Amazon terms you'll see online.
Amazon API: a web interface giving programmers access to Amazon's product catalog data and seller's account info (with permission). Many loan providers, inventory management companies, and third-party software companies back-end access to your account.
Brand registry: This is a program offered by Amazon for sellers who manufacture their own brand of products. Items in this program are protected -- nobody else can have offers on the listings without permission from the brand owner.
Lightning deals: a special promotion on the front main page of Amazon where limited-time deals are offered on specific items.
Vendor express: The program through which Amazon sells private label products from third-party sellers.
Verified review: a product review left from a seller who actually purchased a product off of Amazon.
ASIN: A Standard Identification Number identifies a product on Amazon. Used only within Amazon.
UPC: Universal Product Code. 12 digit number assigned to each item in the form of a barcode. Recognized across the globe.
FEIN or EIN: Federal Employer ID Number. Most suppliers require this number to set up wholesale accounts.
Resale Certificate: Certificate issued at a state level which shows you don't need to pay tax since you're a reseller. Also known as "tax exempt form."
Minimum Advertised Price (MAP): The lowest price a supplier will allow you to sell a product.
Manufacturer's Suggested Retail Price (MSRP): The price point a manufacturer suggests a product is sold.
Q1, Q2, Q3, Q4: The four sales periods of a year.
Minimum Order Quantity (MOQ): The minimum dollar amount of product a seller must purchase in one order.
NET 15, NET 30, NET 60: When establishing credit terms with a supplier, they will typically offer a grace period for how long you can take to make a payment. The number after NET represents the number of days you have to make a payment of the net balance. NET = 15 days. NET 30 = 30 days, etc.
Gated: Items or brands which require special permission to sell.
Ungated: Products or brands which don't have any restrictions.
Ungating: Getting approved to sell a gated product.
Product Bundling: Offering multiple products in one Amazon listing.
For more Amazon terminology, click here.
------------------------
Best Seller Rank
Amazon's Best Sellers Rank (or BSR) is one of the most important metrics sellers to be aware of. When understood and applied, BSR knowledge helps you choose products that are more profitable, more stable, and have a higher turnaround rate.
Please keep in mind that Amazon does not publicly release the methodology on how BSR is calculated. The information in this article is based on the best information available.
What is Amazon's "Best Seller" rank?
BSR is a ranking calculated for each popular product on Amazon. It is based on the number of times a product is ordered within a category over a certain period of time.
A #1 ranking indicates a product has sold more than any other product within the category, within the past few days.
To find a BSR look up any listing on Amazon.com. Scroll down to the product information box. If there's no rank, it could be for any number of reasons. We'll go through those scenarios in a moment.
Below is an example of an extremely strong rank. This inflatable movie screen is the 4th most popular product with "Patio, Lawn & Garden" (the main category). It is the #1 product in "Inflatable Outdoor Holiday Yard Decorations" (a sub-category within Patio, Lawn & Garden). The main category rank is the one you want to pay attention to. It gives you a broader view of how the products stack up against ALL competitors.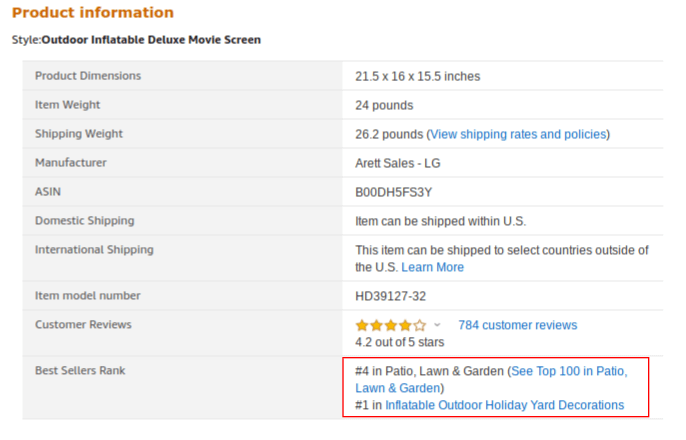 Sometimes, sub-rankings are less obvious. The example below lists that the product is ranked #438 in Blank Media Products. On the surface, this seems like a great ranking, but when you realize Blank Media Products is a sub-category with only a few thousand listings, it stops looking so hot.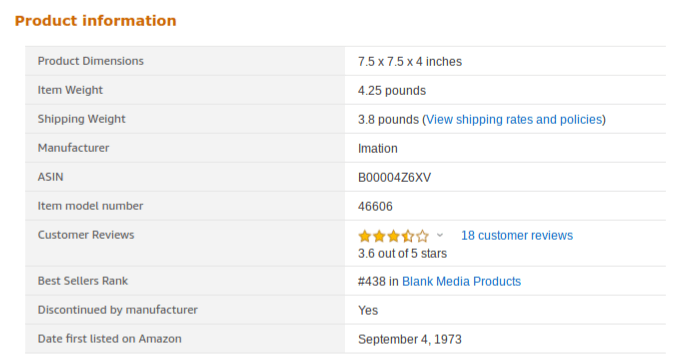 I found a product without a ranking!
Fear not, there are a few reasons why this may be the case.
The product hasn't sold in a certain period of time -- After a few months without a sale (or longer, for bigger categories) Amazon's algorithm drops the rank completely.
The product listing has been "reset" -- Sometimes, Amazon removes the sales history of items with no clear reasoning. If the product you're looking at has hundreds of reviews but no rank, this is likely the case.
The product was recategorized -- When Amazon moves a product from one category to another, the sales history and rank disappear.
How do I calculate sales based on a rank?
A certain amount of products are available within each Amazon category. For example, there 2,220,569 items in the Grocery & Gourmet Food category. Some categories are even larger; Sport and Outdoors has more than 21,000,000 products!
Different products with the same rank (in separate categories), have very different sales volumes.
For example, an art tool with a rank of 5000 may sell one unit a day, while a toy with a rank of 5000 will sell upwards of 20 units a day. The reason is the size of the categories -- The musical art tool is in the top 10% percent of its category, while the toy is in the top 1%.
Here's a rough way to calculate volume: An item in the top .01 percent of a category will likely sell a minimum of 10 units a day. An item in the top 1% of a category will sell at least 1 unit a day. For example, if there are 225,000 products in the software category and a product you're eyeing is ranked 2250, you can expect to sell a minimum of 1 unit per day.
Keep in mind this number is also split between the number of sellers who share the buy box. If you're looking at an item that sells 10 units a day and there are 10 sellers at the same price, you would sell roughly 1 item a day.
An even easier way to calculate sales volume is by using free sales estimating software. Simply plug in an ASIN (found in the product information box explained above) and the program will give you estimated sales over the past month. The software only provides a ballpark figure, but it will save you some math.
Remember, product rankings are constantly in flux, and will change hourly. Don't be surprised to find a product rank moves up or down by thousands within a week.
------------------------
How to Price Your Product
Pricing to win the buy box
Most new Amazon sellers make one fatal mistake when pricing their wholesale products. When their competition drops the price on a product, they follow suit. Because many sellers use repricers (software that automatically changes prices according to set rules) what often ensues is a "race to the bottom." A seller drops their price $.10, then the competition drops their $.10, and so on until there's no profit left.
Here's a dirty little secret: The buy box rotates everyone within a few cents of the low price. Instead of pricing down, price a few pennies ABOVE your competition and you're likely to get the same amount of sales. If other sellers continue to tank the price of an item, hold steady. There's a good chance they will eventually sell out and the price will come back up.
The only time this won't work is if you have a product with low demand and an influx of sellers. For example, if a toy is ranked above 200,000 and there are 20-30 sellers each with 50 units in stock, this means there it is likely to be years before the product sells out and the price goes up. This is when it's best to weigh your options: hold the product until it sells at the price you want, sell it on another venue, lower the price, etc.
Pricing Within Your Own Listing
How do you price an item when there's no other direct competition within your listing? Most sellers assume you should look at what similar items in your market (keywords) are selling for and create and sell at that price.
Those sellers are dead wrong, and they're losing out on huge profit margins.
Take a glance at these two products (see images below). Both are very similar in size, product, and function. Both probably have similar manufacturing costs. Both are well ranked and show up on the first page in a search for "ring boxes." Both have listings with multiple pictures. The only significant difference?
One seller is making a whole lot more money.
When you're first pricing your own product, start high. Slowly lower the price over a few weeks, tracking sales. In the end, do an analysis of your profit. Did lowering the price bring in enough volume to make up the difference? Adjust the price accordingly.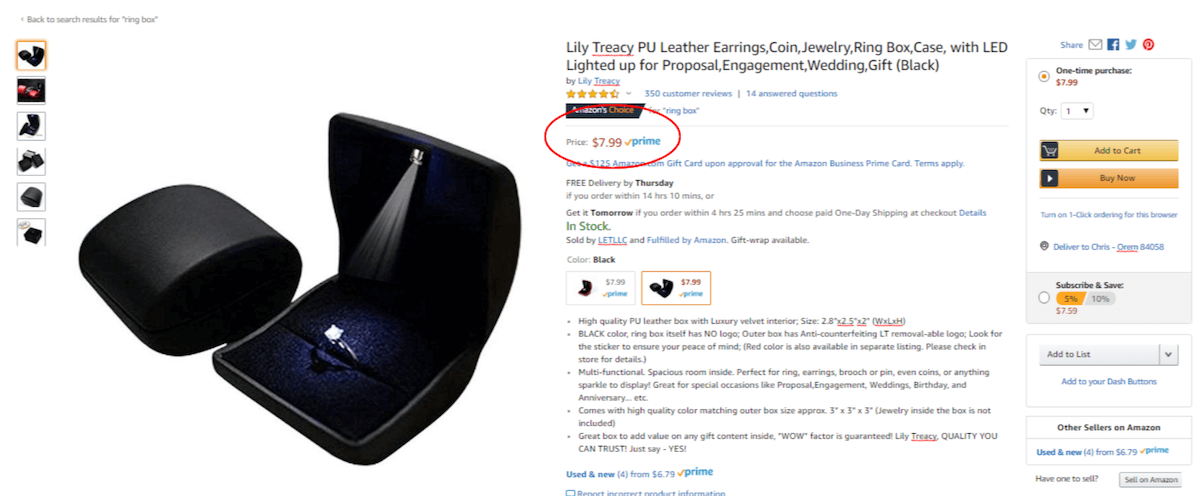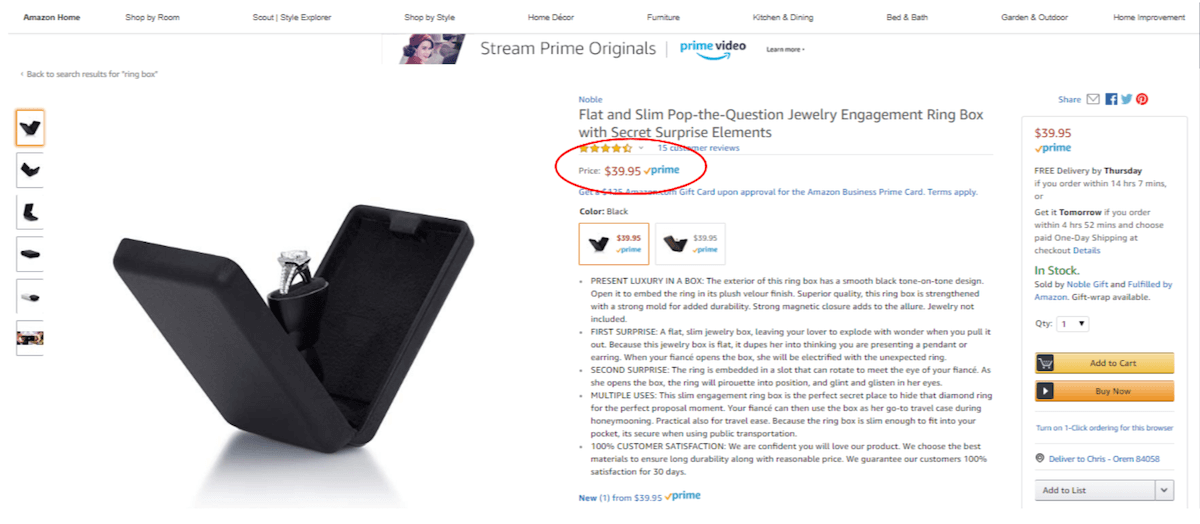 ------------------------
7 Common Beginner Mistakes
Once you send in your first Amazon shipment and your sales start picking up, the rest is easy, right? Rinse and repeat. However, Amazon selling is full of small details that are easy to miss. Here are a few common mistakes that beginner (and sometimes veteran) sellers overlook.
1. Not knowing the rules
Hundreds of Amazon sellers are suspended every single day, mostly because of small issues that could have been easily corrected. Some of these problems include:
Shipping overweight boxes
Incorrect product labels or expiration dates
Selling a restricted brand (even if the listing is unrestricted)
Sourcing product from a bad supplier
Packaging damage from the shipping process
Preventing each of these issues is clearly addressed in Amazon's own Seller University.
2. Stock Management
At first, it can be difficult to know how much inventory to keep on hand. On one hand, you're losing out on big money if you don't have enough product in place. On the other hand, it's not good for all your products to be tied up in one place. A good rule of thumb is to always have 30 days' product on hand (or 45 days Oct-Dec).
3. Cashflow
Could your business survive a suspension? Though it can be tempting to dump all your cash into one great product, it's always important to have some cash on hand in case something goes wrong.
4. Item doesn't match listing
According to Amazon's rules, a product must match a listing exactly. This includes packaging, barcodes, color, etc. Sometimes a manufacturer will create a new barcode for a product that is exactly the same as an old one. There are many sellers who don't care about the barcode as long as the product on the listing looks the same. Most of the time this doesn't cause a problem, but it only takes one angry customer to cause major account issue. Every single aspect of the product should match a listing.
5. Registering for more than one account (without permission)
It can be tempting to open a second account in case your first gets suspended, but Amazon catches almost all attempts to circumvent their system. Amazon can connect two accounts by physical address, email, and even IP address. If Amazon is feeling nice, they can send you an email similar to this: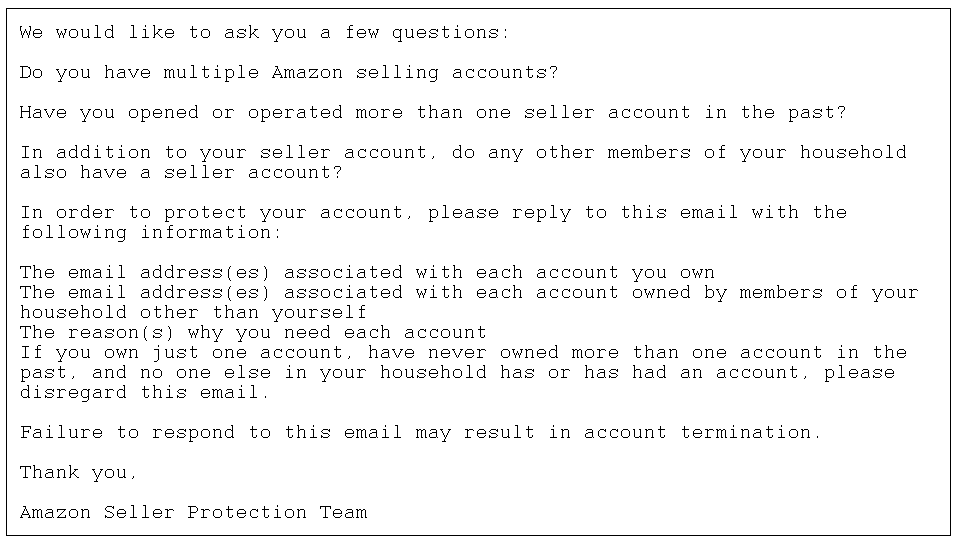 If they're not feeling so nice, you can get a suspension with no chance to appeal. It's not something you want to mess with.
To request a second Amazon FBA account for a legitimate reason:
Go to Contact us (under help in the top right corner of your seller central screen).
Click Selling on Amazon > Your account > Other account issues.
Provide an explanation of the legitimate business need for a second account. Keep in mind, to be considered for approval:
You must have a different bank account for each Seller Central account.
Each account must have a separate email address.
The products and services sold in each account must be different.
Your Performance Metrics must be in good standing.
Amazon will generally respond to your request within 2 to 3 business days. Failure to comply with these requirements might result in your account suspension.
6. Luring customers outside of Amazon
You can't draw customers away from the main Amazon website. This includes emails, text in packaging inserts, or messages through Amazon's buyer-seller portal.
From the mouth of Amazon itself: "Any attempt to circumvent the established Amazon sales process or to divert Amazon users to another website or sales process is prohibited. Specifically, any advertisements, marketing messages (special offers) or "calls to action" that lead, prompt, or encourage Amazon users to leave the Amazon website are prohibited. This might include the use of emails, hyperlinks, URLs, or web addresses within any seller generated confirmation email messages or any product/listing description fields."
7. Miscalculating shipping
It's easy to see a great profit margin but forget how much shipping costs. Let's say you find this furnace cement from one of your suppliers for $1. The gross proceeds are $3.16 so it seems like a pretty solid profit margin, right? That is until you click on the gross proceeds so you can see how much shipping costs.
There is no profit margin left after buying and shipping this product. This goes for Merchant Fulfilled items as well; it always pays to double-check shipping costs.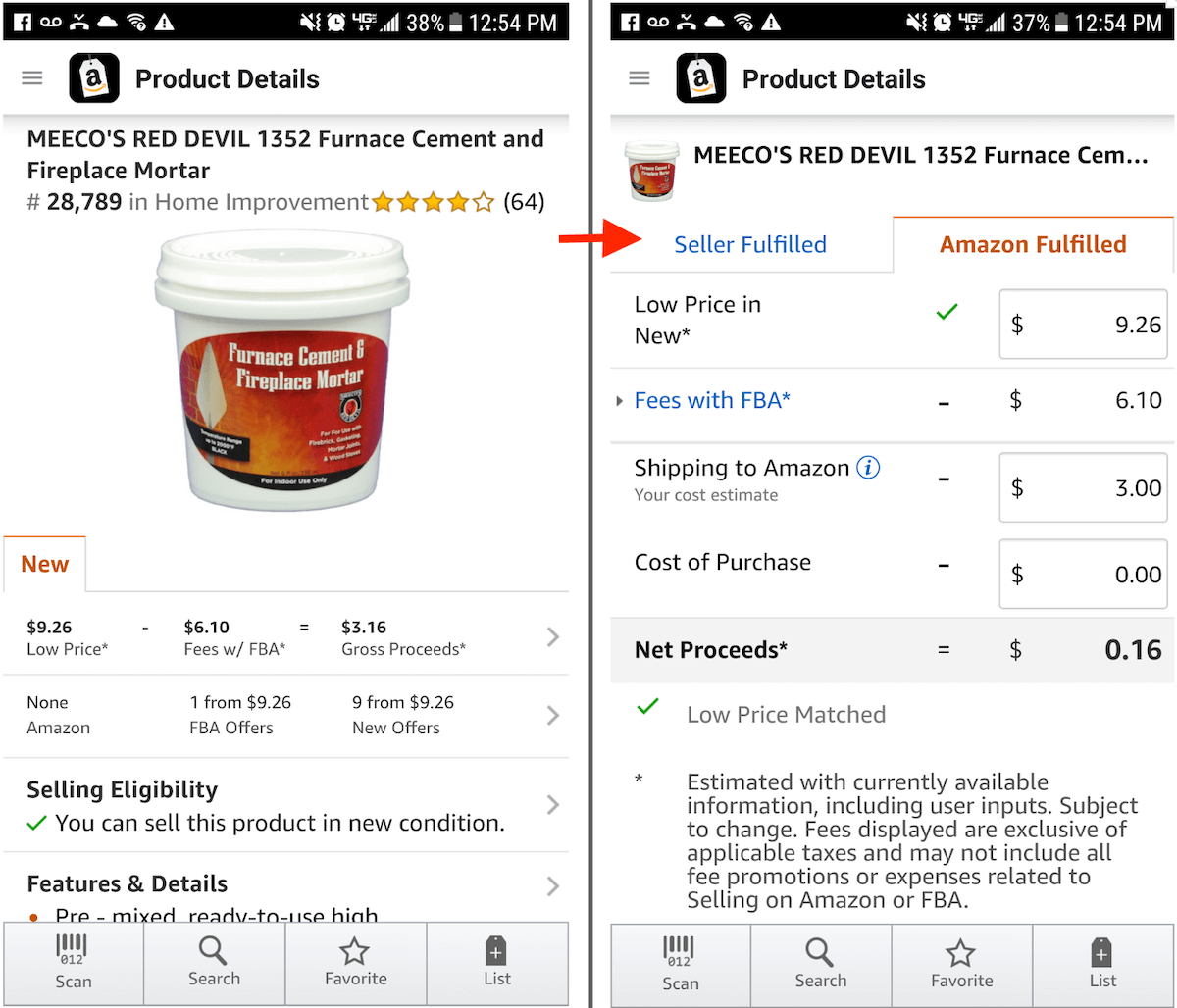 ------------------------
Creating an FBA Shipping Plan
Once you have a product in your possession, the next step is to ship your products to Amazon. Here is each step of the process.
Go to Manage FBA Inventory and select one of your listed products to start the shipment. Additional products can be added later. Go to action > send/replenish inventory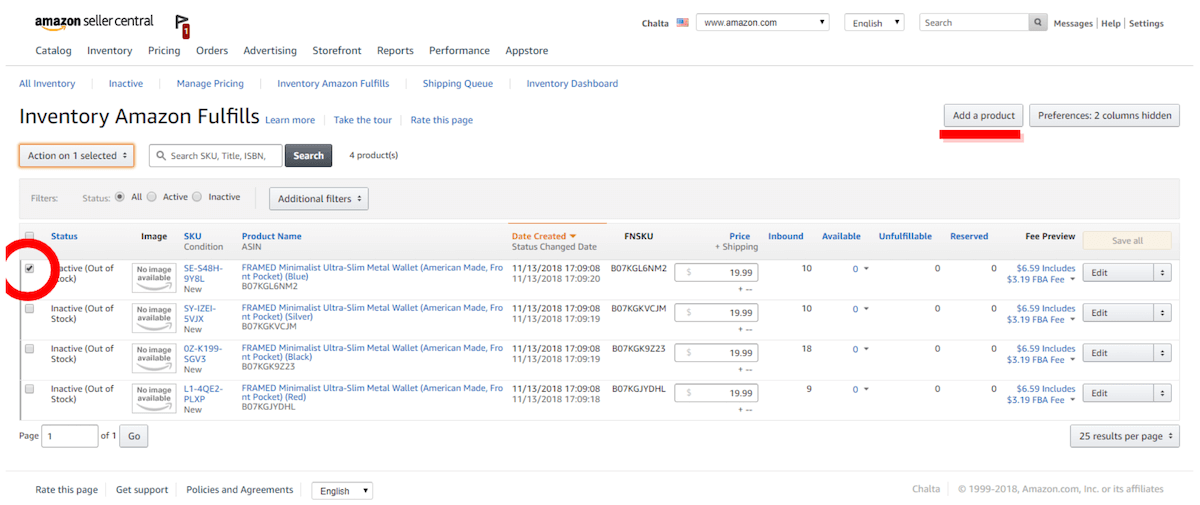 Select between individual and case-packed. Case packs are generally boxes from the manufacturer, while individual products are items you box yourself.

Select how many units you're sending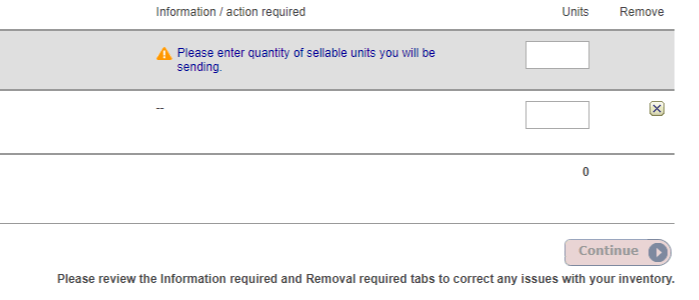 This page will show you what prep Amazon requires. This is generally bubble wrap (for fragile/glass items) or poly-bagging (for items that contain liquid or are prone to leaking). You can choose to prep items yourself or have Amazon do it for a per/item fee.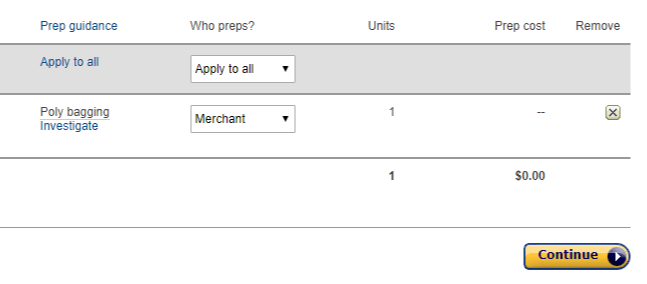 This page allows you to select who will add an Amazon label to your product. If you have commingling on in your settings, skip past this page. In this screenshot, commingling is set up so there is no option to do anything.

This will tell you how your shipment is being split, usually 3-5 warehouses. Each of these warehouses will be in a separate box/shipment. The shipment below is only going to a California warehouse.

Choose if you are shipping via ground (UPS or FedEx) or freight (LTL). Sellers get a deep discount off normal costs with both UPS and FedEx.

Select how your shipment is packed. If you have more than 15 boxes, Seller Central will prompt you to fill out a spreadsheet with info about what contents each box contains. You can have Amazon do this for a .20/item fee. It's most efficient to try to pack separate different SKUs in separate boxes.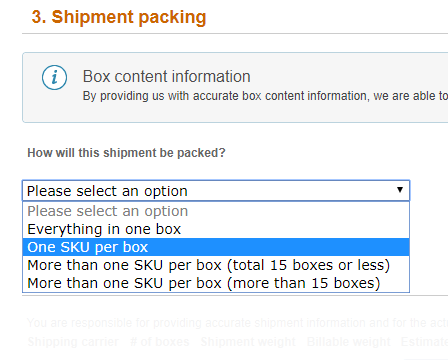 Enter how many items of each SKU is in each box. Enter the correct box weight. The most a box can weigh is 50 lb unless it's a large single item. Amazon weighs all boxes, so even trying to sneak 51 lb. can land your account in hot water.

Finalize shipment and print shipping labels. If you're shipping by freight, seller central will give you an option to choose a "freight ready" date. Your shipment is ready to go!

------------------------
Conclusion
You have the tools, but it's up to you to use them.
This article is written to motivate you. Don't wait to take action. If you carefully follow each of these 12 steps, you are guaranteed to make your first sale. Yes -- there will be obstacles, so make sure to bookmark this since we'll make consistent updates.
Questions? Suggestions? Keep the conversation going in the comment section below.